From strong structural framing systems, to walls, roofs and compatible accessories, Star Building Systems' products have the advantage of factory assured quality and predictable performance. Each component is inspected throughout the manufacturing process to assure the highest standards of quality are maintained. Our manufacturing facilities are designed for maximum operating efficiency. That means the very best value for your money.
But value doesn't have to mean dull, unimaginative buildings. Sophisticated building systems can readily incorporate glass, wood, stucco, brick and stone to provide versatile structures that have dramatic effects, or blend with their surroundings. This versatility creates contemporary structures, ideally suited to project the right business image.
Star's building systems have proven themselves to be aesthetically pleasing while providing superior economy, energy efficiency and consistency of quality. That's why they are the number one choice for today's business needs.
AVP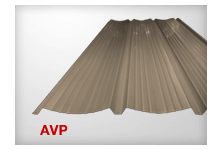 The AVP panel produces a decorative shadow line creating a distinctive architectural effect with semi-concealed fasteners. Ribs are 1 1/8" deep and major corrugations spaced 12" on center. The net coverage of panel is 3'-0 ".
ShadowRib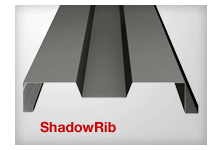 ShadowRib™ panel combines aesthetics, economics and function to bring definition to metal structures. This panel is a proven performer and a versatile tool to the designer. Structural strength in the Star Shadowrib panel is accomplished without sacrificing appearance or design flexibility. The fluted face creates distinctive shadow lines.
PBR Wall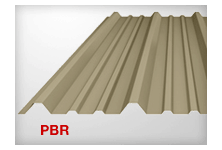 The PBR panel's deep ribs create an even-shadowed appearance. The area between the major ribs is reinforced with minor ribs. PBR is one of the most economical panel systems and can be used for both roof and wall applications.